PAKISTAN EMERGENCY CASH 280,000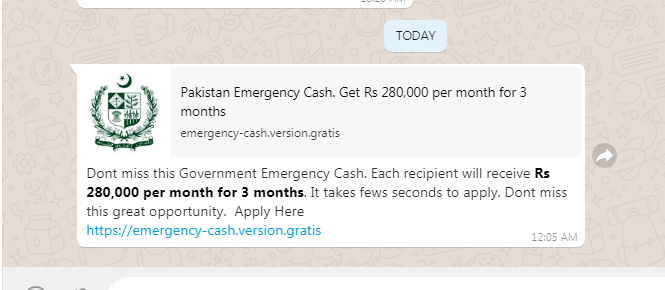 Nowadays in PAKISTAN EMERGENCY CASH message is sharing and forwarding on Whatsapp groups and Facebook. In which written to apply for emergency cash and get 280,000 per month for three months for help in this covid-19 pandemic. They also use the Ministry of Finance logo in a message to make it real. If you click on the link then it will take you to a page where you can see some fake comments at the bottom.

After that when you click on Continue then it will take some time and will ask for your name. Ater that will ask to share in 5 WhatsApp groups or 15 friends.
People are sharing it would it searching about that it is real or fake. Pakistan Ministry has not announced any scheme PAKISTAN EMERGENCY CASH and this is just fraud and fake.
What is the Purpose of PAKISTAN EMERGENCY CASH?
There can be different purposes of this website for example to rank the website in few days and get traffic for earnings. It might possible that they are just collecting data from different people. Most people are filling in the required data box without thinking that can be very dangerous for them. Never give your personal data on any local website because they can use your data anywhere for any purpose. It might be possible that there can be any organization behind this and they are collecting data to sell it out.
So be careful and don't ever share these kinds of links before searching about it and never fill your data on these types of sites.