With the rise of pandemic Covid-19 Government of Pakistan started Ehsaas emergency cash program in 2020 for the poorer people of Pakistan who have lost their jobs.
The Federal Government and Punjab Government of Pakistan started to provide cash of 12000 per person during the pandemic to help vulnerable communities specially the laborers who lost their job due to lockdown.
The procedure to get this cash assistance was made through sending CNIC in SMS to 8171 and 8070 for provincial and federal government cash assistance.
After fulfilling the parameters for deserving people, the government sent SMS on mobile numbers who were eligible for ehsaas emergency cash program.
This program of ehsaas emergency cash was started in the first quarter of 2020 and cash was provided to deserving eligible people after biometric on designated centers by Ehsaas throughout the country for almost the 3rd quarter of 2020.
As usual thugs find their way to scam people, they started sending SMS through mobile numbers that you sent sms to 8171 and you are eligible for cash program of 25000.
These scam SMS are sent through by a certain mobile number and telling that you sent sms on 8171 and your cash is approved and a contact number is given to contact to encash the reward.
As shown in the picture below;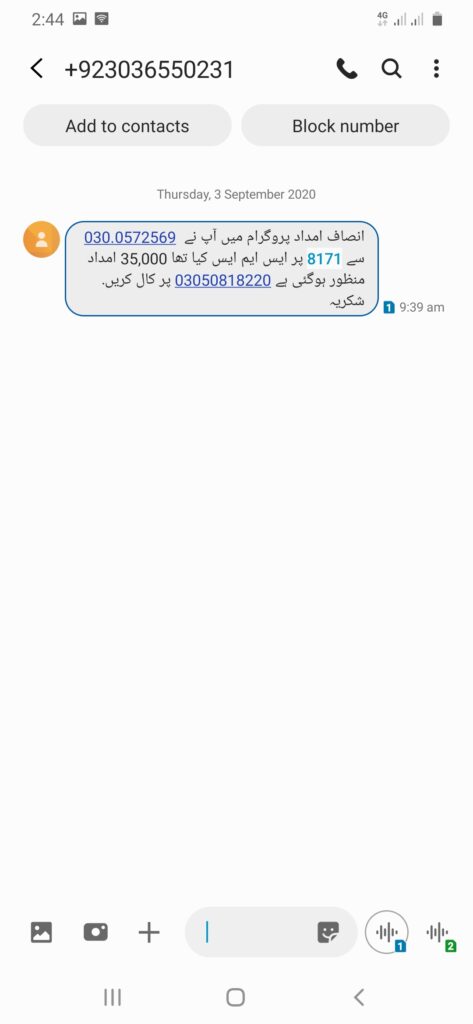 احساس امداد پروگرام میں آپ نے 030.08171967 ( آپکا موبیل نمبر ) سے 8171 پر ایس ایم ایس کیا تھا 35000 امداد منظور ہو گئ ہے 03050818220پر کال کریں۔ شکریہ
The above given about ehsaas program 35000, ehsaas program 25000, ehsaas program 8000 or any other amount from a mobile number SMS is received asking you to call is a fraud.
Don't call them back. Ehsaas emergency cash program is no more working.