Baba Guru Nanak Dev Ji was born in a small village called Raaye Bhoy Ki Talwandi (present-day "Nankana Sahib" a district of Punjab) Near Lahore. Guru Ji was born on 15th April 1469. Sikhism has 10 Gurus, Baba Ji was the first Guru of Sikhi. Muslims believe in one God (Allah) and Guru Ji preached the oneness of a one God (Waheguru).
Three things a Sikh of Guru must do.
KIRAT KARO               Earn a decent and honest livelihood.
NAAM JAPO                 Chant WaaheGuru's (Allah) name.
VAND CHHAKO           Serving to the community and sharing.
GURU GRANTH SAHIB JI
Guru Granth Sahib Ji is a holy book for Sikhs, it contains some teachings of Baba Farid-Ud-Din Masood r.a. (4 April 1179 – 7 May 1266) a great Muslim scholar of his time who influenced millions.
Granth Sahib Ji has Kabir's teachings as well. A renowned poet and critique of Islam and Hinduism. The thing that creates an affinity among Sikhs and Muslims is the belief in one true God (Ik Onkar).
REASON OF SIKHS' LOVE FOR PAKISTAN
Baba Guru Nanak Ji was born in Pakistan, traveled the whole world, even visited Makkah (the birthplace of Muslims' Prophet and a Place for their pilgrimage). After traveling to distant places Baba Ji chose to settle in areas that constitute present-day Pakistan.
KARTARPUR SAHIB
Kartarpur means the place of God. It is a small village in Tehsil Shakargarh, district Narowal, Punjab, Pakistan (Pak-Asthaan, a sacred place for Sikhs). Guru Nanak Dev Ji spent his last days with his family here (Nanak Dev Ji was 55 years old at the time of his settlement there), wife Mata Sulakhni, children Lakhmi Das, Sri Chand. Guru Ji passed away in Kartarpur. From here, Guru Ji made many visits to Ajodhan (present-day Pakpattan, a district in Punjab near Bahawalnagar and Sahiwal) and Multan (City of Muslim Saints, it is said that about 125,000 saints have been buried here).
GURU JI PASSES AWAY IN KARTARPUR SAHIB AND QUARREL BETWEEN HINDUS AND MUSLIMS
His Muslim followers wanted to burry him according to their religion. Hindus wanted to cremate him according to their religion. According to scriptures, a quarrel broke out between both parties, someone pointed out we should look for the body of Guru Ji. When they looked for him, he had disappeared. There was only a sheet of cloth which both Hindus and Muslims cremated and buried according to their beliefs.
One wonders that what did the Sikhs wanted during all the disagreement that took place. How do they want to bid a farewell to their Guru. Sikhs actually have no problem with Cremation, Burial or even Bury under the water (leave the body in an ocean or any large water body). Their religion grants them the liberty to do what they are pleased to do. The soul has departed the body of the deceased, now it is entirely upon the discretion of the bereaved how they perform the last rites of the funeral.
LION OF PUNJAB, (SHER-E-PUNJAB) MAHARAJA RANJIT SINGH JI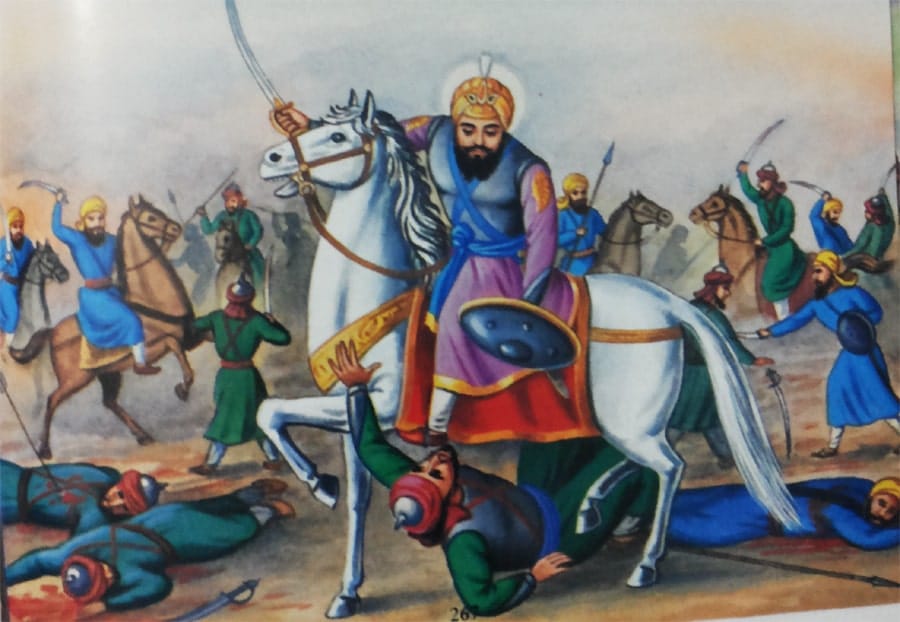 Maharaja Ranjit Singh Ji was the leader of the Sikh empire. He became Maharaja at the age of 21. His army was called Sikh Khalsa Fauj (Sikh Army of Pures). The army composed of 120,000 soldiers divided into three main divisions. Most importantly, his army had Hindu, Muslim and European soldiers.
BAHAI FAITH
Bahaullah was a Persian. He believed in the unity of all mankind, unity of all religions and unity of God. The headquarter of Bahai Faith is called the Universal House of Justice. It is based in Haifa, Israel.
Bahais believe in the unity of all mankind on a single faith regardless of color, race, creed, and religion. Mirza Husayn Ali Nuri (Bahaullah) is the religious leader of Bahai Faith. In 1985 in India they officially acknowledged that Guru Nanak Dev Ji was a Saint of high order or Bahais and he should be followed and praised as a religious order.
KARTARPUR CORRIDOR
The government of Pakistan has opened a visa-free corridor on the international border of Pakistan for Indian Sikhs on November 9th, 2019. This whole place is called Kartarpur Sahib and there is a Shrine which is called Gurdwara Darbar Sahib.
Such a huge complex was built in such a short time, if it were built in some European country National Geographic would have already made a documentary on it. This corridor gives a message of Baba Ji's love and peace to the whole world, that is why it has not taken a place in the eyes of international media.
This corridor of love and peace will leave an effect on billions of lives of Asians. It will change the South Asian geopolitics.
Pakistani PM Imran Khan invited his cricket time friend, Indian Punjab Tourism Minister Navjot Singh Sidhu on his oath-taking ceremony where Pakistani Army Chief Gen. Bajwa told Sidhu that the Pakistani Govt was planning to open the corridor for Sikhs on Baba Guru Nanak's 550th birthday. A token of respect for Sikh brothers from Muslim brothers.
DESIGN OF THE KARTARPUR DARBAR SAHIB COMPLEX MEGA PROJECT
The complex will have a hotel of international standard will all the facilities one can imagine. A chain of almost a thousand apartments matching international standards. A humongous commercial area having food chains of international fast foods, garment stores, confectionaries and everything that a settler and tourist needs and imagines. Two very large car parking with a dedicated power grid station solely for the complex. The government acquired 3200 kanals for the Gurdwara only in early 2019. The whole complex will cover about 10 square kilometers after the completion of phase two.
SENTIMENTS OF SIKHS ALL OVER THE WORLD
Sikhs are extravagantly jubilant all over the world by the love and peace gesture. Moreover, there is not a single video of any Sikh pilgrim at Kartarpur Sahib who ever complained about the attitude of Pakistani officials or the public. They are received with respect and love in Pakistan. Their turban is respected, their ladies are called Baji (respected sister in Urdu) or Maa ji (respected mother).
Pakistan is changing, so is Asia…
Waahe Guru Ji Ka Khalsa, Waahe Guru Ji Ki Fateh
(Allah (God) is pure, Allah is Faateh)