Jazz ReadyCash is an instant digital loan that is paid to JazzCash customers into their JazzCash account from amount 100 to 7000. Jazz ReadyCash could be availed by dialing the string *786*4*1#

There are two ways to get Jazz ReadyCash digital loan;
1; By dialing a string or code on mobile phone number
2: Through JazzCash app
In the first option, the amount limit of the Jazz ReadyCash loan can be known by dialing *786*4*1# or to make repayments.
Through JazzCash mobile app three steps are to follow to avail the digital loan offered by Jazz.
Login to JazzCash app
Tap the " Get ReadyCash " option
Enter the amount and MPIN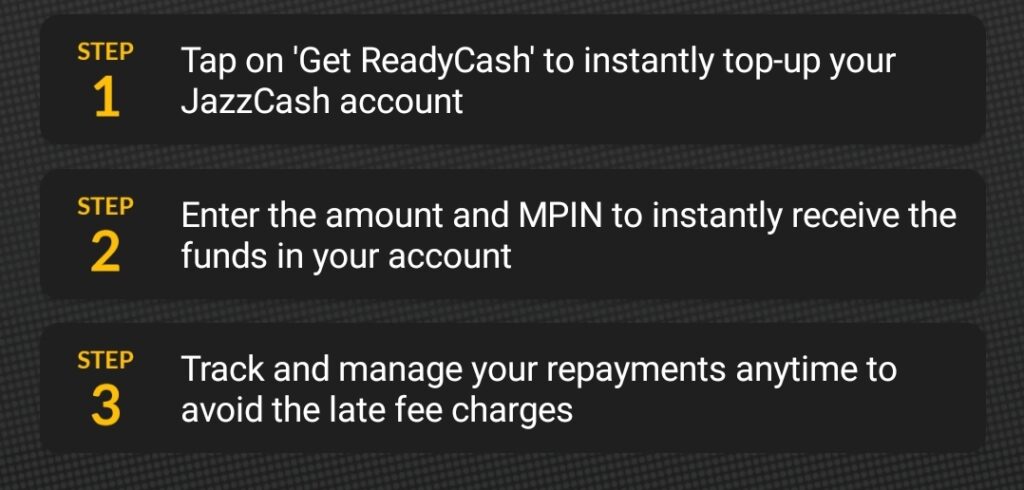 The jazz ReadyCash loan is offered on the markup rate or interest rate of 5% per week and pay back period of funds is after the four weeks of availing the loan. The amount is automatically deducted after the due date and you can payback even before the due date by selecting the option of repayment of Jazz ReadyCash.
The mark up is charged on borrowed funds for 8 Weeks from the date of availing loan. After 8 weeks no mark up is charged.
In case of failure to repay the loan plus mark up after 90 days of loan availed the borrower will be declared defaulter and he/she will not be able to avail funds next time.